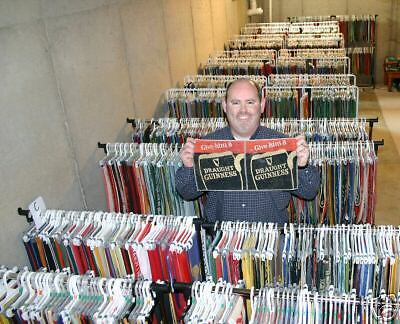 The Collection and I

Hello to all fellow collectors of Breweriana, and specifically all those who collect those wonderful pieces of brewing history we call bar towels! My name is Bob Begley and I am the current Guinness World Record holder for the largest collection of bar towels. I have been collecting them for more than 15 years and they have become more than just my hobby, they are my passion. Fellow collecting junkies will no doubt understand my sentiment. My collection is currently in excess of 4700 unique towels! It is comprised of towels representing products from 41 different countries including Australia, Austria, Belgium, Bermuda, Brazil, Canada, Costa Rica, Cuba, Cyprus, Czech Republic, Denmark, England, Finland, France, Germany, Greece, Hungary, Ireland, Isreal, Italy, Jamaica, Japan, Malta, Mexico, Netherlands, New Zealand, Norway, Philippines, Poland, Portugal, Puerto Rico, Russia, Scotland, Singapore, Spain, Sweden, Switzerland, Trinidad & Tobago, United Arab Emirates, United States, the Virgin Islands, and Wales.
I am always looking to add new specimens to my collection, feel free to contact if you think you have something I might be interested in.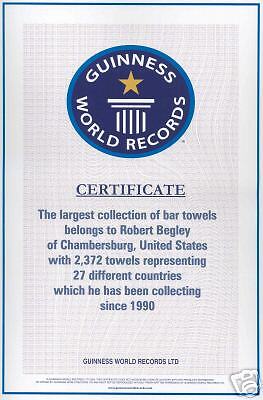 Guinness Certificate

Many thanks to those who have most graciously helped me with the compilation of my collection including "Fast Fingers" Linton, Pierre-Yves Quemener, John Clarke, Terry Sanderson, Diana O'Riley, Mick Payne, Patania Damiano, Shawn Dunn, Malcolm Kay, Daryl Ziegler, Sharon Payne, Corirossi Claudio, Carmen Hall, Crystal Ford, Patrick Hanchon, Dave Jennings, Mandy Fenn, John French, Steve Pattison, Michel Dubois, Kim George, Patrick Hanchon, Peter Fleming, Steve Jones, Ian Witney, Steve Helwig, Steve and Julie Howarth, Colin Young, Julie Geordie, Alister Read, Steve Charlton, Simon Jordon, Ann Mathews, Marc Balderstone, Brett Barnard, Ursula Weidener, Ryan Dodd, India Gibson, Duncan Turnbull, Chris Talbot, Shaun Roberts, Steve Coulson, Davide Giorgi, Colin Wright, Marcin Bienkowski, G. Wilkie, Frank Swindells, Maria Kennedy, Gerhard Bolender, Karl Lieschnegg, Stephen Hawranke, Kevin Burtwell, Jim Saylor, Martin Bell, Rob Cadman, Marti Saltzman, Robin Miles, Tony Skelding, Karen Dagnall, Kristin Fowler, Dawn Bradley, BJ Johnson, Colin Vernon, Derek Skinner, Paul King, Dawn Bradley, Pete Robbins, Noel King, Nell Goodwin, Paul Fleming, Rachel Thompson, Brad Schmidt, Joan Erickson, Mike Palmer, Andrew Hannan, Russ Rimington, Philip Good, Gurpal Singh Bhogal, Davie Meek, Guy & Kim Campbell, Mario Boccacci, Gary Bray, Alan Gold, Jason Davies, Tony Parsons, Dan McGuire, Sunil Samtani, Graham Kerry, George Grimwood, Sabrina Labadie, Dr. Glendon Bogdon, Bill Wilson, Jerry Mitchell, Maria Moppett, Eileen Field, Mike Driehuis, Ulf Molin, Benjy Edwards, Gary Faulkner, Toby Prosser, Jon Edwards, Chelsea Holifield, Andy Wright, Alex Wilson, Dan Sandonato, Mary Case, Dennis Curry, Linda Kern, Amy Walker, Grant Cooper, Julien Capelle, Anton Tenan, Bob Beimers, Frederico Fanucchi, Gustavo Guerra, Brian Zartman, Jonathan Wager, Josh Lenzini, Jim Forcand, Randy Graham, Kevin Ruscitti, Sebastien Lacroix, Ádám Mülhauser, Daniel Aharoni, John Forcand, Jeremy Watson, Pat Allen, Predrag "PJ" Romano, Bart Sanders, Chad Crowley, Linnea Gregersiö, Andy Paxton, Talfryn Finnear, Fred Partington, Ray Morrison, Chad Fluent, Ray Morrisson, Peter Decoo, Tobias Dahlbo, Jorge Silva Lopez, Thomas Ljusberg, Fredrik Warnerfecdt, and a seemingly endless list of other wonderful people.


Thanks as well to the many corporate donations to my collection. Corporate donators are: Abbeydale Brewers, Samual Adams Boston Beer Company, Adnams Sole Bay Brewery, Arkells Brewery Ltd, Badger Brewery (Hall & Woodhouse), Bavaria Brouwerij, The Belhaven Brewery, Bir and Fud, Bridgid's Bar & Restaurant, Bruisin' Ales, Brutul, Caledonian Brewery, Carlsberg, Cue Craft, Cutty Sark, Dooleys, The Duvel Brewery, Eli Cannon's Pub, Exmoor Ales, Farsons, the Flying Saucer Pub of Little Rock, The Francoli S.P.A. Group, Fullers at Griffin Brewery, Nick Stafford's Hambleton Ales, Harveys Brewery, Heineken of Holland and of Italy, The Hook Norton Brewery, The Hopback Brewery, The Irish Mist Liqueur Company, The Ian Macleod Distilleries, Jennings Brewery, JW Lees & Co. Brewers, König Brauerei, Kulmbacher Brauerei, Monk's Belgian Bar, Mythos Brewery S.A., Noilly Prat, Okells Brewery, Pub Charity, Randalls Brewery, San Miguel, Santa Sofia Wines, Sharps Brewery, The St. Austell Brewery, Tappeto Volante, Royal Unibrew, Vladivar Vodkas, Wadworth Brewery, Warrior Clothing, Warsteiner Brauerei, Young & Co.'s Brewery, and 3 Sma Rum. Also the greatest thanks to Hartstrings for keeping me in hangers!

Thanks for looking and Cheers!

Bar Towel Bob